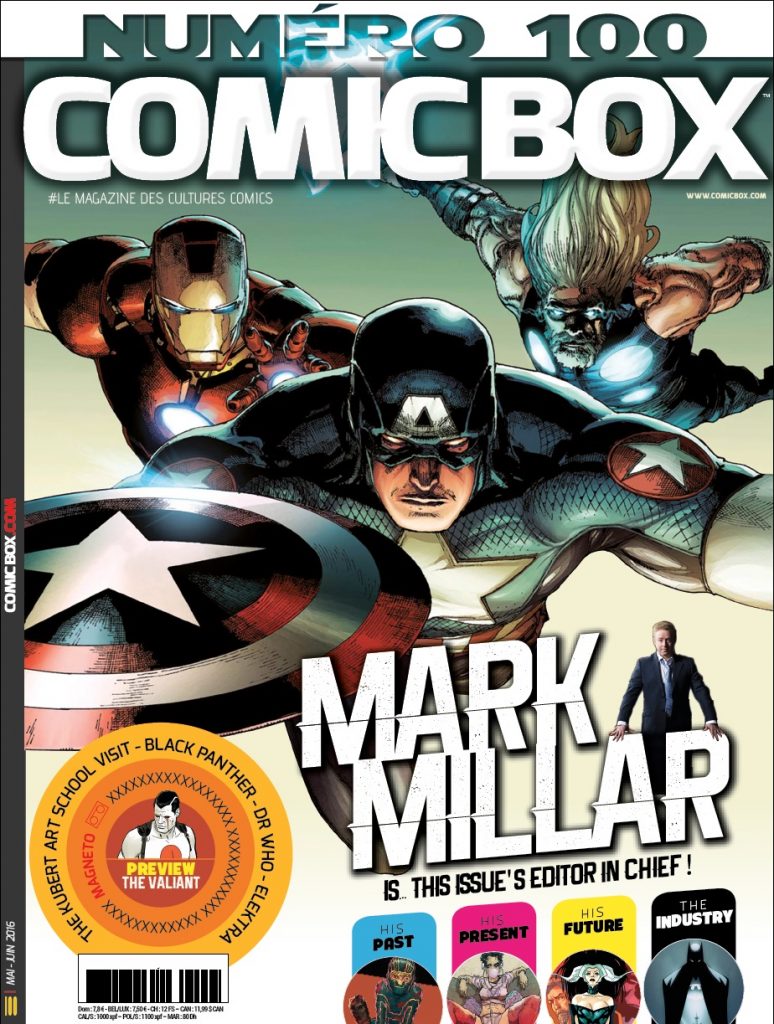 A major announcement coming from France:
To mark the release of the 100th issue of Comic Box,  the long running French magazine about American comics is marking the occasion with contributions from some of the biggest names in comics, including special guest editor-in-chief, famed comics writer Mark Millar!
"We've known Mark Millar for a long time and he always liked Comic Box. It was a no-brainer to ask him to be our Guest-EiC.  We're thrilled he accepted." said the Comic Box crew of the acclaimed comic book writer whose works – including Wanted, Kick Ass, Kingsmen- the Secret Service, the Ultimates, and Civil War – have been the basis for blockbuster film adaptations.
Millar has taken his role very seriously, giving a considerable amount of time to consult with the staff and leaving his personal mark on the content, too: writing several of the pieces himself, giving a special exclusive preview of his latest comic book, Jupiter's Legacy II #1 and picking most of the creators interviewed in the issue himself, including Marvel Chief Creative Officer Joe Quesada, DC Co-publisher Jim Lee, and superstar creator Stuart Immomen.  Other highlights in this issue include a visit to comics art institute The Kubert School with exclusive interviews with Adam and Andy Kubert as the school turns 40!
Comic Box was founded in 1998 by Fabrice Sapolsky (a journalist turned comic book writer with several high profile projects under his belt), and the magazine has been run by Xavier Fournier and Lise Benkemoun since 2011, when Sapolsky left his position as Editor in Chief.  Each French-language issue is packed full of the latest news, with the strongest focus on American super-hero comics, plus interviews, comic previews, feature articles, and coverage of all things comics including movies, television, and collectibles.
Comix Box is published bi-monthly for distribution to French newsstands (and outlets in French speaking countries), comic book shops, and digital platforms.
Grand Design Communications packages Comic Box for French publisher 2B2M and represents worldwide rights for local editions of Comic Box.  An English language edition and website are currently being developed.  Interested publishers should contact Grand Design for more details.